© Bright Sparks Sports Lighting 2023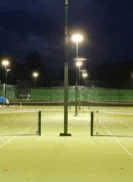 Tennis court LED lighting systems
Scheme One
Four 8m corner mounted columns with TennisPro LED 750 floodlights.
This scheme uses a single phase electricity supply and will also achieve the minimum
recommended LTA tennis court lighting level of over 400lux with 0.7 uniformity.
(total power consumption per hour 3.6kw )
Scheme Two
Six 6.7m side mounted columns with a 500w TennisPro LED floodlight mounted on each column.
This scheme uses a single phase electricity supply and will achieve the minimum LTA tennis court
lighting level of over 500lux with 0.7 uniformity. ( total power consumption per hour 3kw )
For more information please visit the LTA tennis court floodlighting guide below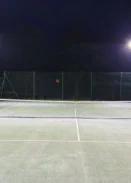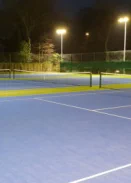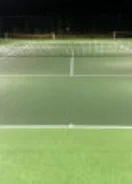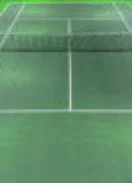 Sports Lighting UK have been at the forefront of LED tennis court floodlighting systems
for over the seven years.
We have been developing LED floodlights that reduce light spillage and glare while
provide a good uniformity of light.
The TennisPro LED floodlight offers a flexible lighting solution that can be fine tuned to
any location.
By using individually mounted LED arrays we can use various optics to produce the
optimum lighting spread to suit most court layouts.
These can be used as a retrofit LED lighting solution or on a completely new system.
By having an output of over 160 lumen's per watt they also provide an energy efficient
lighting solution by achieving an LTA standard lighting system with just 3Kw of electricity
per court. This will depend upon column locations.
Using critically controlled LED lighting arrays the
TennisPro LED floodlight produces optimum
lighting levels whilst reducing light spillage and
glare.
These floodlights are design for use in difficult
lighting situations where dark skies compliance
and light spillage must be kept to a minimum.
The TennisPro LED floodlight uses multiple LED
drivers that include soft start technology to
reduce the switched load impact and increase
component life.
A true retrofit LED floodlight to replace the old
style HID metal halide lights.
The TennisPro offers a dimmable lighting
solution to provide full match or practice lighting
levels helping to further reduce running costs.
.
Long life and high reliability with a five year
warranty as standard and an expected life of
over 50,000hrs.
Ultracool system reduces the internal floodlight
temperature helping to increase component life.
All internal and external fixings are made from
stainless steel
Energy savings of over 50% can be made when
replacing
HID flood Lights
With a High quality 1000hrs salt spray tested
powder coat finish and with a n IP67 rating the
TennisPro LED floodlight is prepared for the
harshest of environments.
Tennis Court LED Floodlighting Upgrades
With the old Metal Halide tennis court floodlights quickly becoming
obsolete and replacement lamps and parts becoming difficult to
get hold of. The New TennisPro LED floodlight has been developed
as a direct replacement by providing outstanding lighting performance,
light spillage / glare control and incredible energy saving.
The TennisPro LED floodlight produces over 160 lumens per Watt
by using the very latest in multi-optic LED technology..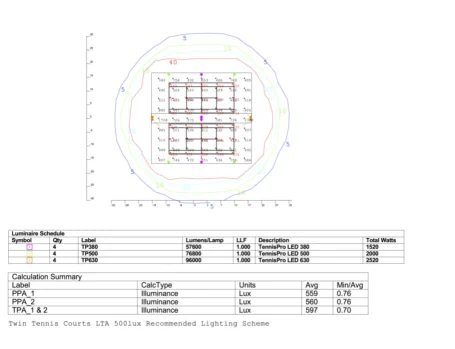 The above 500lux LTA twin tennis court LED floodlighting scheme uses just 3Kw per court.
An equivalent Metal Halide scheme would use approximately 6.6Kw and produce lower lux levels.
The TennisPro LED floodlight is designed to be a direct replacement for the old HID floodlights
and come with different lumen outputs to suit its location on the court.
• Uses the latest multi-optic LED technology.
• Ultra High Efficiency LED arrays.
• Temperature / surge & short circuit protected.
• 5 Year Warranty.
• Manufactured in the UK.
• High LED Lighting uniformity.
• Stainless Steel Fixings.
• Strong Corrosion Resistant Aluminium Housing.
• High Quality Powder Coat Finish.( >1000hrs salt spray
tested )
• Dimmable 0v - 10v ( with additional cabling )
• Suitable upgrade for 1 & 2Kw HID floodlights.
• Supplied with a universal mounting bracket.
Specialists in LED tennis court lighting
Some of the Tennis club installations and upgrades we have
recently carried out.
QueensGate Tennis Club, Bramhall, six courts LED
floodlight upgrade,
Hale LTC, Hale, Retractable LED floodlighting system.
Bowdon LTC, Bowdon, Manchester, six court retractable
LED floodlight installation
Buxton LTC, Buxton, Triple court LED floodlight
installation,
Sale Sport Club, Sale, Manchester, Triple court LED
floodlight upgrade
Hartlepool Tennis Club, Hartlepool, Twin court LED
floodlight installation
Cottingham LTC, Cottingham, Hull. LED upgrade six
courts.
Stowmarket LTC, Stowmarket. Four court LED upgrade.
Crick & West Haddon tennis club, West Haddon, Triple
court LED upgrade
Westside LTC, Wimbledon, Eleven court LED upgrade
Lyndhurst LTC, Lyndhurst, Twin court LED upgrade
Baschurch tennis Club, twin court upgrade.
Priory Tennis Club, Stalybridge. Four court upgrade
Congleton LTC, four courts upgrade plus two new
courts.
Riccall Tennis Club,York, three court upgrade
Whalley Range LTC, Manchester, triple court upgrade.
Bexley LTC, six court upgrade
Sphynx Tennis Club, Southport, four court installation.
Bramhall Park Tennis Club, Stockport, triple court
upgrade.
Burnham on Sea Tennis Club, eight court upgrade
Call 01625 876716